Need an ADHD meal plan PDF to make your meal decisions easier?
What are the steps to making an ADHD meal plan?
An ADHD meal planner can guide you to healthier food choices!
In this article, we will discuss all about ADHD meal planning, benefits, and guidelines of meal planning, and provide you with a sample ADHD meal plan PDF. We will also discuss what to do when nothing sounds good to eat!
Read on for more info.
Want a copy of this article? Click here to download this article.
This information is for educational purposes only. As with any medical advice, always check with your doctor or health care professional for personal and age-appropriate recommendations.
Please note that this article contains affiliate links. If you click one of these links and make a purchase, we may earn a commission.
What is Meal Planning?
Do you get home and wonder what to make for meals? Sometimes, the last thing you want to do after a long day is plan a meal, shop, prep, and cook.
Meal planning involves some simple steps to make your meal healthier and easier to prepare.
A good meal plan is one you can follow to prevent getting "hangry" and eating unhealthy, processed foods. People with ADHD tend to have poor eating behaviors as shown in a 2022 study (1). Healthy nutrition can reduce the risk of ADHD symptoms as presented in a couple systematic reviews and meta-analysis of children (2, 3).
What is the Benefit of an ADHD meal plan?
Some of the benefits of ADHD meal planning include:
Creates a

personalized meal plan

with your food preferences

Less decision making

and reduces being overwhelmed with food choices

Reduces the stress

of what to buy and eat

Saves times

as shopping and prep can be done ahead

Optimizes your time and

structures your meals
Saves money

as you can plan meals ahead and

reduce food waste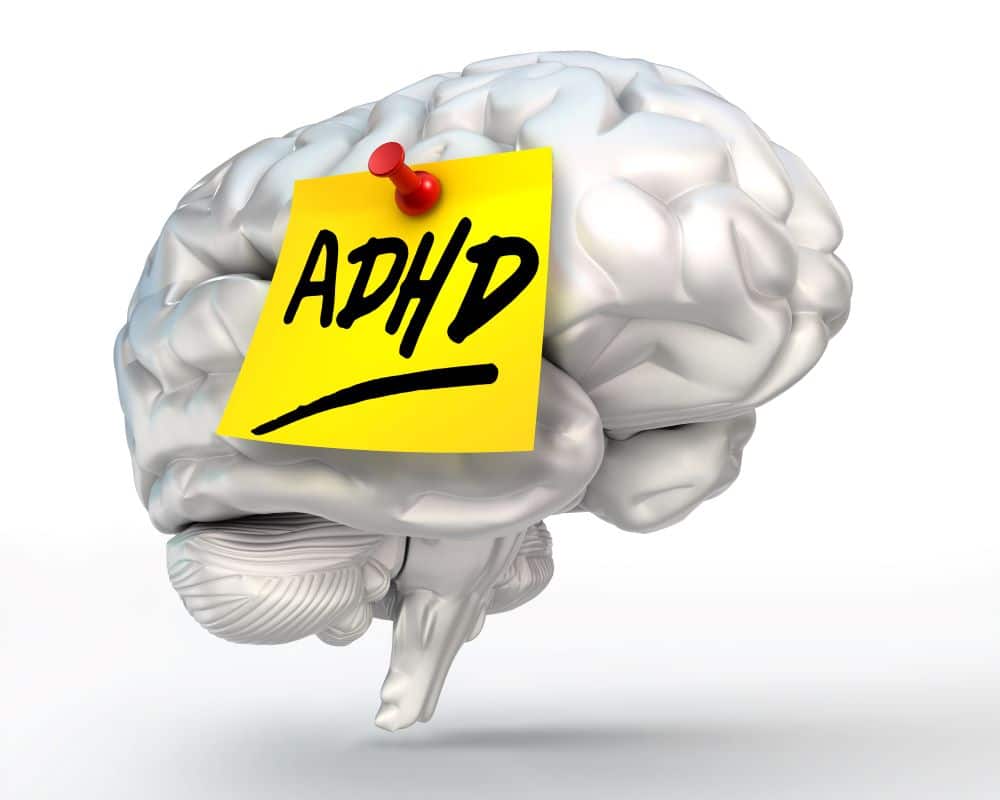 What are the Guidelines for Meal Planning?
Research Recipes
Find your favorite easy recipes. You can look online, through cookbooks, or ask friends and family. Whatever you choose, keep a list/copy of several of your favorite recipes so they are easy to access.
Create a Grocery Inventory List
Look in your fridge and pantry and make a list of food items needed for your recipes.
You can create this list on your phone, computer, or on a piece of paper. Whatever is easiest and repeatable for you.
Write down the food items you need for the recipes for a few days of meals. 
Depending on your schedule, plan, and prep on the weekend so you are ready for the work week (plan on Saturday, prep and refrigerate or freeze on Sunday).
Remember to check:
Fruits

Vegetables and fresh herbs

Bread

Meat and Seafood

Pantry items (beans, canned foods, flours, snack foods, condiments)

Frozen items

Beverages 
Shop for Groceries
There are many ways to shop for groceries these days.
Grocery Stores
If you enjoy browsing the aisles, go to the store. The perimeter of the store will have your fresh foods and the inner aisles will have most of your staples/pantry items.
You can also have groceries delivered from many stores. 
Online Shopping- Thrive Market
There are several options for online food shopping. One of my favorites is Thrive Market for staples as many organic, gluten free, paleo, keto options are offered. Get up to 40% discount off your first order and free gifts with Thrive Market.
ADHD Meal Tips
Eat breakfast with adequate protein.

Have protein at each meal.

Eat from the rainbow (lots of vegetables and some fruit).

Eat throughout the day.

Try intermittent fasting if that plan works for your body.

Make extra so you can freeze or keep leftovers in the fridge for a couple days.

Plan ahead!
Prep and Cook Your Meals
After you have made your grocery list and completed shopping, it is time to prep and cook.
It is best to prepare food for a couple days to save time.
A few recommendations are:
Get all your recipes and ingredients ready.

Clean and cut your vegetables so they are ready to cook (you can also buy precut).

Prep and season your protein source.

Get cooking!

Clean up as you cook to keep your kitchen counters organized.
Using an Instant pot, crockpot, and grilling are easy prep methods for protein.
Some easy meals include ground meat sauces, meat balls, baked chicken, stews, stir fry, chili, or curry dishes. You can add a starch (rice, quinoa, gluten free pasta, potatoes) and vegetables.
Store any leftovers in glass storage containers.
ADHD Meal Plan PDF
Here is a sample ADHD Meal Plan PDF. You can modify protein sources to your preference. 
This plan can also be made dairy and gluten free.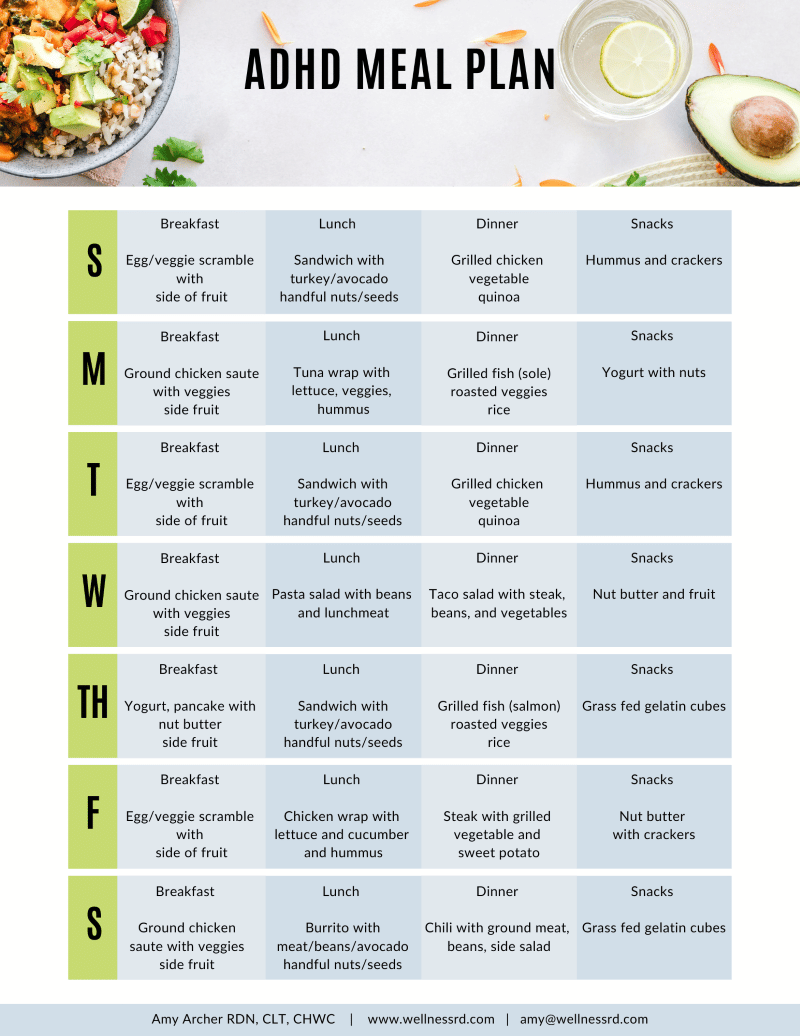 Nothing Sounds Good to Eat?
You prepped meals but have eaten them all. Now, nothing sounds good to eat?
Here are some healthy items you can keep on hand in the fridge/freezer and pantry for quick meals and snacks.
Protein:
Roasted chicken from store

Healthy frozen meals

Canned tuna, chicken, sardines

Canned beans
Snacks:
Yogurt

Nuts or nut butter

Hummus or guacamole and cut up vegetables

Granola bars

Smoothies

Cheese sticks

Lunch meats

Healthy snack bars (nuts, seeds)
Final Thoughts
Meal planning involves some simple steps to make your meals healthier and easier to prepare.
The benefits of meal planning include:
Personalized meal plans

Reduces stress

Saves time

Structures your meals

Reduces food waste

Saves money
Research recipes, create a grocery list, shop, and prep for meals.
When nothing sounds good to eat, choose some of your premade or easy to access foods.
Test don't guess.
Contact me to schedule an appointment to review your personalized nutritional  health.
© Amy Archer RDN, CLT, CHWC